Please join us on January 21, 2017 for our 33rd Rosary Procession and Rally at 11 a.m. at City Hall!

Rosary Procession starts at 11 a.m. on Saturday, January 16 at City Hall.    Map >>  City Hall.
Rally starts at noon at Fountain Square.    Map >>  Fountain Square.

SHUTTLE SERVICE available from Fountain Sq. to City Hall starting at 10:00 AM and, after the event, back to City Hall.
2017 ProLife Rosary Procession and Rally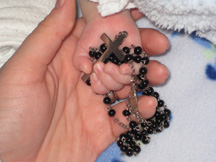 Speaker 1:  Tom Brinkman – Ohio State Representative
Speaker 2:  TBD
Speaker 3:  TBD
*All signs and banners to be used in the January 21, 2017 Rosary Procession must be approved by a Cincinnati Pro Life Committee member prior to start of procession.

The 2016 ProLife Dinner was a huge success!  Thank you for your support.
Past ProLife award recipients include:
Paula Westwood, Cincinnati Right to Life Executive Director
The Maas Family from JTM Group
Tom Condit and Addia Wuchner
Jackie Carney and Jane Hoffman
Katie Walker
Chris Monzel
Ray & Joan Loebker
Bob Cetrulo
Steve Chabot
Joanne Kemmerer
Joe Scheidler
Tom Brinkman
Cinny Roy
Mark Harrington
James Condit Sr.
Ed Donohoe
Past Cincinnati ProLife Committee Rally speakers:
Ohio Sec'y. of State, Ken Blackwell
OH State Rep., Tom Brinkman
NKY Right to Life President, Bob Cetrulo
U.S. Congressman, Steve Chabot
Catholic Charities of Arlington, Katie Walker
Hamilton Cty. Clerk of Courts, Patricia Clancy
Ed Donohoe of Pregnancy Center East
Midwest Director for Bioethical Reform, Mark Harrington
Right to Life of Greater Cincinnati President, Jack Hart
Hamilton Cty. Commissioner, Phil Heimlich
City Councilman, Sam Malone
Cinny Roy of HEART
City Councilman, Chris Monzel
Joe Scheidler of the ProLife Action League
U.S. Congresswoman, Jean Schmidt
OH State Rep., Michele Schneider
OH State Senator, William Seitz
Exec. Director Right to Life of Greater Cinti, Paula Westwood
City Councilman, Charlie Winburn
---
Cincinnati ProLife Committee
PO Box 12512
Norwood, OH 45212
www.CincinnatiProLife.org
info@CincinnatiProLife.org
Note:  Signs and banners carried during the Rosary Procession or held at the Rally must
be approved by a Cincinnati Pro Life Committee member prior to start of procession.